Team Variance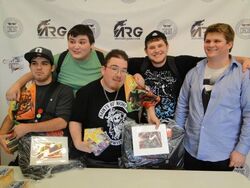 Team Variance is a team of players of the Kaijudo Trading Card Game based in Northeast Ohio.
Media
Team Variance can be found on Twitter @Variance_Team[1].
Trivia
According to their Twiiter, each member of their team has at least one KMC Top 8.
References
Unaffiliated with any teams
Robert Arguelles ● Michael Austin ● Jerah Doxtator ● Meghan Rozum ● Logan Witthuhn
Chris Andersen ● Joe Bass ● David Bruno ● Patrick Bunyard ● Brian Durkin
Robert Hebert ● Noah T. Koessel ● Jon Johnson ● Jack Stewart
Team Squeaky
Christopher Claybern ● Larry L.
James Bratten ● Cullen Breedlove ● Joshua Heeter ● Liz Heeter
Jordan Naeger ● Chris Schepers ● Ryan Turner ● Brandon Victor ● Reese T. Wiggins
Ad blocker interference detected!
Wikia is a free-to-use site that makes money from advertising. We have a modified experience for viewers using ad blockers

Wikia is not accessible if you've made further modifications. Remove the custom ad blocker rule(s) and the page will load as expected.