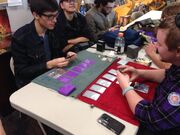 Spencer Swan is a Kaijudo Trading Card Game player and founding member of Team Peach.
Details
Spencer Swan has been an active Kaijudo player since the game was released.  The first season of Kaijudo Master Challenges saw him make top four in the two KMCs he entered with a first place finish in Hartsville, SC.  At the 2013 Summer Championship, he took losses to the eventual second and third place finishers, and the 4-2 record put him at tenth place.  However, the Dragon deck he helped construct was used by Ricky Gross to land a top eight finish.
In the second season of KMCs, Swan made the top eight of two more KMCs, including earning first place in Raleigh, NC to win another trip to the 2013 Winter Championship in Texas.  In Texas, he and teammate Christian Van Hoose ran nearly identical LWD Kalima Control builds that took Swan to yet another 4-2 finish.
Unaffiliated with any teams
Robert Arguelles ● Michael Austin ● Jerah Doxtator ● Meghan Rozum ● Logan Witthuhn
Chris Andersen ● Joe Bass ● David Bruno ● Patrick Bunyard ● Brian Durkin
Robert Hebert ● Noah T. Koessel ● Jon Johnson ● Jack Stewart
Team Squeaky
Christopher Claybern ● Larry L.
James Bratten ● Cullen Breedlove ● Joshua Heeter ● Liz Heeter
Jordan Naeger ● Chris Schepers ● Ryan Turner ● Brandon Victor ● Reese T. Wiggins
Ad blocker interference detected!
Wikia is a free-to-use site that makes money from advertising. We have a modified experience for viewers using ad blockers

Wikia is not accessible if you've made further modifications. Remove the custom ad blocker rule(s) and the page will load as expected.