Cyber Lord is a race of creature in the Water Civilization.
Nomenclature
Most Cyber Lord evolution creatures are named after parts of the brain and memory functions.
Story
Cyber Lords are the dominant race of the Water Civilization. Cyber Lords are immensely intellectual and they are able to communicate telepathically with other Cyber Lords and can control other races with their brain waves. Although they are highly advanced intellectually and technologically, they often resemble infants floating in a cylinder of fluid. Each Cyber Lord has a large chip installed in its head, connected by numerous glittering cables to other parts of its body.
List of Cyber Lords
Support
Example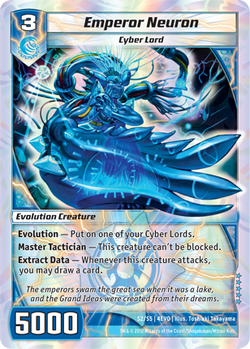 Trivia
The Cyber Lords are the Kaijudo versions of the

Cyber Lord

s from the original Duel Masters franchise.
Ad blocker interference detected!
Wikia is a free-to-use site that makes money from advertising. We have a modified experience for viewers using ad blockers

Wikia is not accessible if you've made further modifications. Remove the custom ad blocker rule(s) and the page will load as expected.